This year I converted.
I made the switch from snowboarding to skiing.
I was motivated to convert after a trip to Elfin Lake hut last winter. I watched as the skiers quickly climbed hills with their skins, while I slowly trudged up the mountain on snowshoes with my snowboard strapped to my back.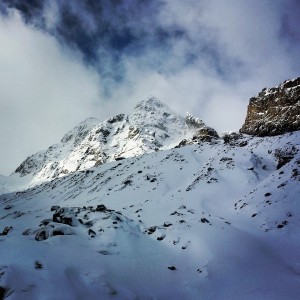 Two weekends ago was my first time ever on skis. We hiked to Keith's hut and skied Anniversary glacier. The next day my legs ached. Apart from being covered in bruises from all of the falls I took, my muscles were really sore-skiing gave my legs a serious work out!
So, with the start of the ski season, I've designed this little flow to help all the skiers stretch-it-out after enjoying some (hopefully) powder filled days!
Click for Skiers Yoga Flow